FINAL FACE-OFF
GORDIE STRATTON

On July 3, 2015 after a courageous fight, Gordie (Dad), surrounded by his loving family, is now at peace. Gordie will be greatly missed by his loving wife of 58 years, Inez. Left to cherish his memory are his four girls; Sandee Deck (Mike), Sheri Johnson (Grant), Shannon Kohut, and Samantha Michaluk (Tony). Gordie's pride and joy were his grandchildren; Dustin ( Shirley), Devon, Danielle (Jeff), Jennifer (Trevor), Matthew, Joshua, Jessica, Maggie and Brady. Gordie's most recent 'hat trick' is his three great-granddaughters Claire, Mackenzie and Zoey. Gordie was one of fourteen children of Ernest and Margaret Stratton. He continued close relationships with many of his siblings especially Eva, Margaret, Linda, Doug and Bruce. Gordie's stories will live on with numerous family and friends. Gordie is predeceased by his infant daughter Tanis, his parents Ernest and Margaret, and his son-in-law Glen Kohut. Also by siblings Ernie, Rose, Pearl, Donnie, Harold, and Freddie. Gordie grew up in Arborg, moving to Winnipeg as a young teen. Here he met his forever love, Inez. Family was always number one throughout a successful hockey career and life. Upon retiring from hockey, Gordie worked for the MLCC for many years eventually transferring to Gimli up until his retirement. The pinnacle of his career was being inducted into The Manitoba Hockey Hall of Fame in 2007. Gordie's milestone was celebrated with many family members and friends. Gordie enjoyed days at the beach, walks with Inez and Checkers, and stories around the campfire. Special thanks to Gimli Betel Home for providing excellent compassionate care for Gordie in his final days - you are his angels! A celebration of life will be held at 10:00 a.m. on July 9, 2015 at St. Michael's Roman Catholic Church on 7th Avenue, Gimli, MB. In lieu of flowers, please support the 'Stratton Six' team for the Gimli Parkinson's Superwalk 2015. In Gordie's memory, please go to www.parkinsonsuperwalk.ca to sponsor our team prior to September 2015. A private family interment will be held at a later date.
As published in the Winnipeg Free Press on July 07, 2015


---

WALLY STANOWSKI

The Manitoba Hockey Hall of Fame is saddened to report of the passing of Honoured Member Wally Stanowski at 96 years old.

Stanowski enjoyed a decorated junior career with the St. Boniface Seals. In 1938, he was part of a Memorial Cup winning club. During the tournament he scored six goals and 10 points in 11 games from the back end.


He went on to a long and successful career in the NHL, winning four Stanley Cups with the Toronto Maple Leafs.

---
SPORT WORLD MOURNS LOSS OF FRANK McKINNON
The Manitoba Hockey Hall of Fame mourns the loss of Honoured Member Frank McKinnon who passed away Sunday May 31, 2015 in Calgary at the age of 80.

Born in Wellwood, MB his interest in sports started as a player in the Brandon area, participating in hockey, track and field, football and fastball. A 32 year career in education, included a commitment to the community where he became a founding member and the first treasurer of the Manitoba High Schools Athletic Association (MHSAA) in 1962.

At Carman, MB McKinnon was both principal and coach. He was instrumental in starting a hockey program at the school in 1968. As a coach, his teams would win four provincial championships, in three different sports (hockey, baseball and basketball).

McKinnon served two decades on the executive of the Manitoba Amateur Hockey Association (now Hockey Manitoba), including five as president in the 1970s. He was also president of the Carman-Dufferin Minor Hockey Association.

His outstanding building career includes being chairman of the Canadian Amateur Hockey Association, two years as director of the Sports Federation of Canada, vice president of the same organization and four years as vice president of the Canadian Olympic Association.
In 1974, he was a member of the committee that organized the first World Junior Hockey Championship, and at the same time was a member of the Congress of the International Ice Hockey Federation (IIHF).

After retiring from education, Frank served as the Commissioner of the Manitoba Junior Hockey League (MJHL) for 10 years starting in 1992. He introduced an improved stats system for scouts and increased media attention at games. McKinnon wanted players to be active role models in the community. A scholarship in his name annually rewards a student as accomplished in the classroom as on the ice.

In 1993, McKinnon was named a Life Patron of Hockey Canada, and was inducted into the Order of Canada in 2014.

He's also been made a Life Member of the Canadian Junior Hockey League and Hockey Manitoba, and been inducted into the Manitoba Hockey Hall of Fame, Manitoba Sports Hall of Fame, Manitoba Baseball Hall of Fame, Brandon University and Manitoba High Schools Athletic Association Halls of Fame.
---
CHARLES (CHUCK) LUMSDEN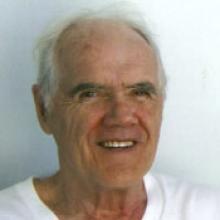 Charles "Chuck" Lumsden passed away peacefully with his wife Berna, of 60 years, by his side, at Concordia Hospital on May 31, 2014. He is predeceased by his brother Tommy, sister Corinne, mother Katherine, and father William. Chuck is survived by his wife Berna, his three children Pat (Rick), Tom (Janis), and Lori (Tim), as well as his 10 grandchildren Brydon, Cristine, Ryan, James, Sarah, Megan, David, Julie, Jordyn, Nykola, his two great-grandchildren Kaden and Zolie, and his 12 nephews and nieces. To say Chuck the "Big Train" Lumsden was a gifted athlete would be an understatement. He played alongside his brother and Blue Bomber Hall of Fame inductee Tommy Lumsden with the Winnipeg Blue Bombers in 1952, 1953, and 1954. Chuck was best known as a hockey player, twice inducted into the Manitoba Hockey Hall of Fame. At age 16, he became the property of the Toronto Maple Leafs. He played in a Memorial Cup final with the Winnipeg Monarchs, and made the M.J.H.L. second all-star team. Chuck left home at age 18 to play from 1951 to 1952 for the Toronto Marlboroughs. He was twice voted to the Ontario Hockey League's all-star team. He played from 1952 to 1954 for the Toronto Maple Leafs' A.H.L. affiliate Pittsburgh Hornets. He left the Leafs' organization and returned to Winnipeg to play for the Winnipeg Warriors. They won the Lester Patrick Cup and were also the Edinburgh Champions in 1956. Before joining the Winnipeg Maroons, Chuck played for the Dauphin Kings, Pine Falls Paper Kings, and the Warroad Lakers. After winning the Allan Cup in 1964, Chuck and the Maroons represented Canada overseas during the height of the Cold War, playing in Communist countries such as Russia and Czechoslovakia. Chuck played for Father David Bauer's Canadian National Hockey Team while the program was initially being developed. After a brief retirement in 1968, Chuck joined the St. Boniface Mohawks helping to take them from last place to the Allan Cup finals only to lose in seven games. He continued to remain active with tennis, cycling, skiing, and ballroom dancing with his wife Berna. Chuck loved to dance and was a member of the Westview Ballroom Dance Club for 35 years. Chuck was an employee of Northwest Airlines for 38 years, which gave him the opportunity to travel around the world with his wife and three children. He was able to fulfill his dream to take all his grandchildren to Disney World, one of their favourite memories with their grandfather. Chuck was a member of the Manitoba Metis Federation and was proud of his heritage. His family would like to thank the N1 staff at Concordia Hospital and the Palliative Care team for making his last days comfortable. A private family graveside service has been held. In lieu of flowers, his family is requesting donations be made to KidSport Manitoba.
As published in the Winnipeg Free Press on June 07, 2014
---


FREDRICK DUNSMORE
It is with loving sadness that we announce the passing of Fred Dunsmore on May 13, 2014 at Riverview Health Centre, at the age of 85. Fred was predeceased by his parents Orval and Isabel and brother Bill. Fred will be remembered forever by his wife Margaret and three sons Jeff, John and Dan. Daughters-in-law Karen, Mary and Nancy. Grandchildren Tara, Kristy (Justin), Cathy (Mark), Andrew, Rachel, Calli and Matty. Great-grandchildren Molly, Julia and Milla. Fred was born in Winnipeg on March 30, 1929 and grew up in the West End. Fred was a gifted all round athlete in hockey, football and baseball. Fred came out of Daniel MacIntyre Collegiate as an all-star quarterback at 15. He was a star in the senior amateur hockey ranks, spending two seasons in the early 1950s with Streatham in the English League. He was voted rookie of the year in that league. Fred and Margaret enjoyed living in London and exploring Europe together. He then returned to Winnipeg to join the Maroons. He was the perennial star forward and captain of the "Red Wreckers" senior squad. In the 1964-65 season he led the Maroons to the Allan Cup Championships, one of five national finals in which he appeared. He played for Canada's national team at the World Championships in Finland in 1966. From 1945 and into the 50s, Dunsmore was a third baseman and pitcher for the old Rosedales and the St. Boniface Native Sons. Fred declined numerous pro contracts in order to get his degree as a Chartered Accountant. Fred went on to become vice president and general manager of Supercrete Ltd. and was a finalist in the voting for Manitoba's Athlete of the Century in 1970. Fred was a loving and caring man. A great husband who always put his family above all else! Aside from all his accomplishments, Fred always spent quality time with his family. Never one to miss an early morning practice and always willing to coach when needed. Larger than life with a heart of gold! Fred took great pleasure in being a member of the Winnipeg Squash Club where he made many lasting friendships. June 22, 2014, Fred and Margaret would have celebrated their 63rd wedding anniversary. A service to celebrate Fred's life will be held at 10:00 a.m. on Monday, May 19, 2014 at Glen Lawn Funeral Home, 455 Lagimodiere Blvd. A special thank you to the staff at Riverview for their care and compassion in Fred's last days. Family and friends may sign a Book of Condolence at www.glenlawn.ca Glen Lawn Funeral Home 204-982-7550
As published in the Winnipeg Free Press on May 17, 2014


---
JOE BELL
BELL, Joseph A. - 1923 ~ 2014 Age 90. Born & raised in Portage La Prairie, Manitoba, Canada. Was final surviving member of Portage Terriers 1942 Memorial Cup Champion team. Signed at age 18 with NY Rangers NHL and played professional ice hockey for 15 years (661 games). His career was interrupted by Canadian Navy service during World War II, where Joe fought the Battle of the North Atlantic against Nazi Germany. After WW II, he resumed his hockey career with the Rangers. During his lengthy career he was selected to several all star teams, and was WIHL scoring champion in 1955, while wrapping up his career with the Seattle Ironmen who were soon renamed the Totems. Joe was inducted into Manitoba Hockey Hall of Fame. He was also an avid low-single digit handicap golfer and bird hunter, he truly loved the outdoors. Once birdied 5 holes consecutively, and lipped-out the 6th, and spent countless hours hunting and on walks with his black labs, Sam and Andy. Loving husband, father & grandfather. Preceded in death by wife, Jo Anne; and daughter, Julie. Survived by son, Joseph Jr. (Sue); daughters, Betsy and Alison Burch (Mark); grandchildren, Jessie & Michael Bell, and Nicole & Alexander Burch; Siblings in Canada include Bev Braden & Bryan Bell-Portage La Prairie and James Bell-Pickering Ontario. Graveside Service will be held March 1, 2014 at 10 AM at Calvary Cemetery, 5041 35th Ave NE, Seattle.



---
KEITH McCALLUM
The Manitoba Hockey Hall of Fame mourns the passing of one of our Board Members, Keith McCallum, on November 9, 2013, one week before his 76th birthday. Keith was a proud Brandon business owner and frequent supporter of community events.

Keith was an avid hockey fan and was once part owner of the Brandon Wheat Kings. Keith also managed the Brandon Olympics hockey team for several years, and the Brandon Pioneer Oldtimers for 17 seasons. Many special friendships and wonderful memories were created during those years. Keith was once a member of the Kinsmen clubs of Flin Flon and Brandon, and the Brandon Gun Club. He was also a board member of the Manitoba Hockey Hall of Fame, and was recognized by them for his contributions to the Brandon Wheat Kings.

---