Lost track of an old teammate? Got a Manitoba hockey tale to tell? Drop us a line and we'll post it here.
Recognize anyone?
On occasion, the Manitoba Hockey Hall of Fame receives inquiries and photographs from visitors providing updates, sharing stories or looking for information. If you've got some hockey photos or memories you'd like to share, we'd love to see them!
If you have anything you'd like to share, please let us know at;
Here's our latest;
Early Dauphin hockey club
Received this photo from a long-time Dauphin resident who would like to know any history that anyone might have about this team. We're estimating its from the early 1900s as cricket pads are being worn and the style of gloves. Anyone have a tip? Please let us know!
We always encourage visitors to send us their hockey-related photos that may be sitting in a drawer or buried in old photo albums. Thanks to Liz Broadbent for these pics of the 1936/37 Winnipeg Beach Hockey Club and a 1933 shot of their rink.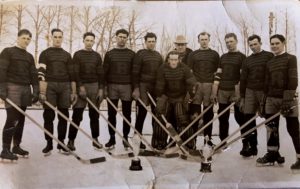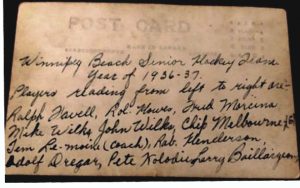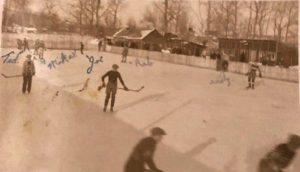 ISAAC BROCK TALES
The Ice maker at Isaac Brock did a pretty good job - two rinks with boards, one large pleasure rink and a curling sheet.
Forgot the name of our ice guy, but the ice crew of Harrison, Black, Van Hellemond the younger, Sawry occasionally, both McConachy's and Granger were very close to matching his flooding technique. One of us had gotten the key to the community clubhouse. We would have been there all after noon on Sunday, and we'd wait until they turned off the lights to signal closing time, gobble up all the left over hot dogs in the canteen at 10 cents each, and go back out, turn on the lights, scrape and flood the ice, and be on a fresh sheet of ice by 6pm with full equipment.
We'd play shinny til 8 or 9 and then go home to catch hell from Mom cause she had made supper. No-one worried we had been kidnapped or abducted, just figured we were still at the rink. That was heaven............... Dave McConachy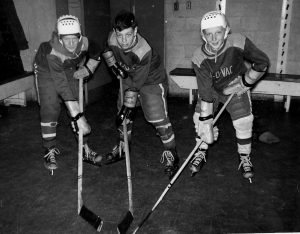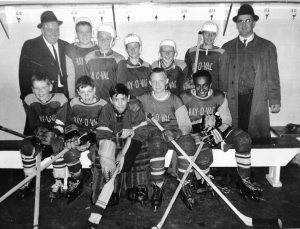 Starting the 1945/46 season, the MJHL's Winnipeg Rangers had plugged a promising new defenceman into their lineup. His durability continues to pay off. Ed Rohatynski recently celebrated his 90th birthday with family and friends in White Rock, BC. Congrats Ed!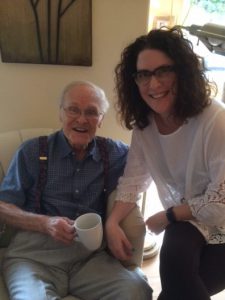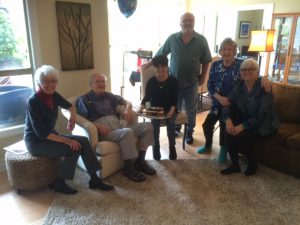 The buildings in the background indicate that it is likely taken at the Victoria-Albert school rink located at William Avenue and Ellen Street. But, does anyone recognize any of the players?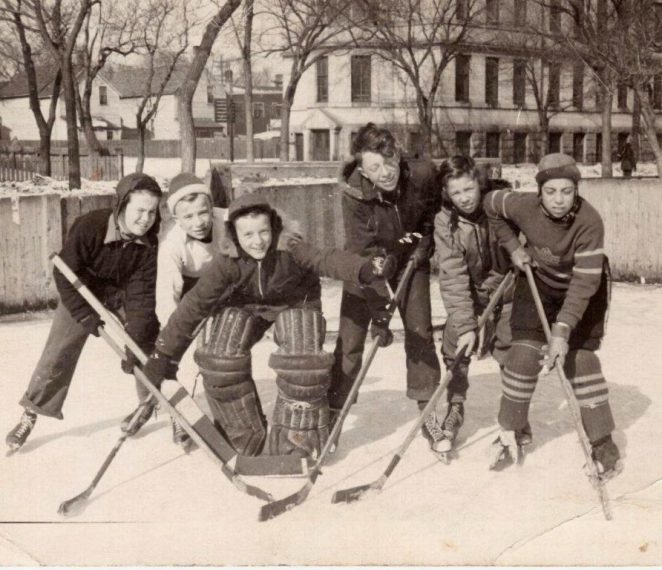 Ray Carter submitted this photo of his Dad's hockey team guessing it to be around 1936. Anyone have any information they can help out with?
Jessie Ferguson's family sent this photo, looking for information on their great-grandmothers playing days. Turns out, Jessie played Goal for the Sherbrooke station team in the Women's Telephone League prior to the First World War. WLT games were very popular, drawing sizeable crowds.
Membership
Manitoba Hockey Hall of Fame Patrons
Membership is open to all who are interested in promoting the goals and objectives of the Manitoba Hockey Hall of Fame. Any person can become a patron of the hall with a donation of $100. We encourage you to support the rich heritage of hockey in Manitoba!
Become a Patron Today